Ravi Sons World Wide manufactures Hydraulic Shearing Machines of supreme quality in the market. The machine manufacturer here is enduring with fixed rake angle and variable rake angle. The availability of models varies from 4mm to 25mm sheet thickness sizes.
Hydraulic Shearing Machine features are-
Welded steel frame
Maximum stringency
Quick blade gap adjustment mechanism
Machines are compact, have low maintenance and are reliable hydraulic unit.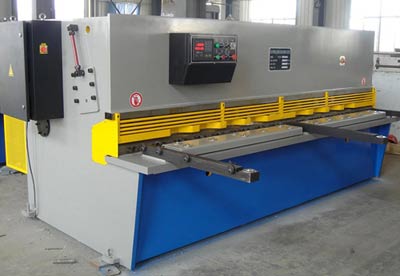 Specification
| | | | | |
| --- | --- | --- | --- | --- |
| Shearing MS. | Shearing MS. | Thickness SS. | Rake Adjustment | No. of Hold Down |
| 1500mm. | 4mm. | 2mm. | 0.5-2.0 | 8 |
| 2000mm. | 4mm. | 2mm. | 0.5-2.0 | 11 |
| 2500mm. | 4mm. | 2mm. | 0.5-2.0 | 13 |
| 3100mm. | 4mm. | 2mm. | 0.5-3.0 | 15 |
| 1500mm. | 6mm. | 4mm. | 0.5-3.0 | 8 |
| 2000mm. | 6mm. | 4mm. | 0.5-3.0 | 11 |
| 2500mm. | 6mm. | 4mm. | 0.5-3.0 | 13 |
| 3100mm. | 6mm. | 4mm. | 0.5-3.0 | 15 |
| 1500mm. | 8mm. | 6mm. | 0.5-3.0 | 8 |
| 2000mm. | 8mm. | 6mm. | 0.5-3.0 | 11 |
| 2500mm. | 8mm. | 6mm. | 0.5-3.0 | 13 |
| 3100mm. | 8mm. | 6mm. | 0.5-3.0 | 15 |
| 1500mm. | 10mm. | 8mm. | 1-3 | 8 |
| 2000mm. | 10mm. | 8mm. | 1-3 | 11 |
| 2500mm. | 10mm. | 8mm. | 1-3 | 13 |
| 3100 mm. | 10mm. | 8mm. | 1-3 | 15 |
| 2000 mm. | 12mm. | 10mm. | 1-3 | 11 |
| 2500 mm. | 12mm. | 10mm. | 1-3 | 13 |
| 3100 mm. | 12mm. | 10mm. | 1-3 | 15 |
| 2000 mm. | 16mm. | 12mm. | 1-3 | 11 |
| 2500 mm. | 16mm. | 12mm. | 1-3 | 13 |
| 3100 mm. | 16mm. | 12mm. | 1-3 | 15 |